Doctoral Program
doctoral-program
Education
Aim of Education
The Program has the following two purposes:
To enable students to discover various problems inherent in the local community from the viewpoint of design.
To enable students to find solutions to such problems and contribute to regional revitalization and growth through their achievements in advanced education and research.
The Program also aims to identify the ideal state of sustainable and environmentally friendly urban and residential spaces and to achieve coexistence of people and nature.
In this Program, students can obtain the following abilities:
Ability to grasp the essence of events with a broad perspective by utilizing basic knowledge of relevant fields while focusing on expertise and skills in their specialized fields
Ability to conduct research (ability to conduct research, investigation, analysis and other activities voluntarily and independently from the viewpoint of design)
Ability to undertake the establishment of new design theories and technical development in a creative manner to create new social values
Ability to display leadership with a comprehensive viewpoint on the entire society while facilitating communications with others
Degree
Doctor of Design
Note: Students who acquire a Doctor of Design degree are expected to play active roles in the following positions:
-Supervisors of plan development, design and other departments
-Researchers at public research institutes, think tanks, etc.
-Educators/researchers at universities and other higher education institutions, etc.
Research fields
The program has two fields-
"Spatial Design for Human Life" and " Communication Design for Human Life"
Research support funds for graduate students
Research support funds for graduate students are provided to students in the Program. The funds may be used for participation in academic conferences, submission/posting of articles, obtaining references and other expenses necessary in the doctoral thesis preparation process.
Outline of the Curriculum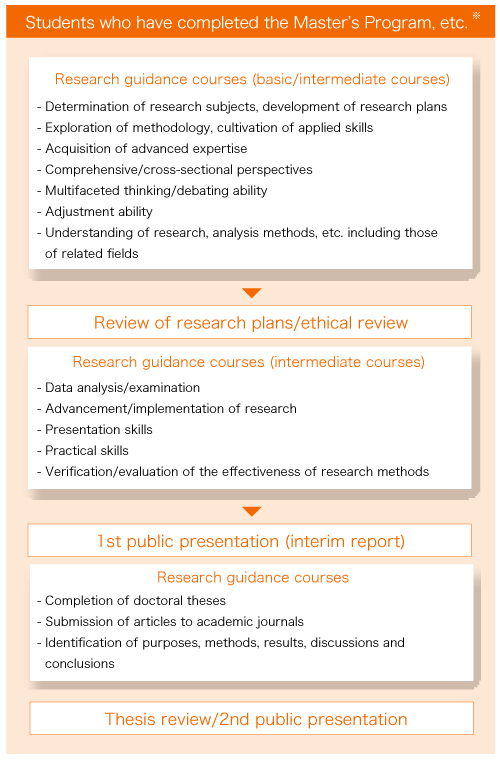 ※Requirements for applicants: those who have completed the Master's Program of the Graduate School of Sapporo City University, those who have completed the master's program of the graduate school of another university, and international students and working people who satisfy certain requirements.
Syllabus