Master's Program
masters-programs
Curriculum schedule
Education
Aim of Education
Graduate School of Nursing will foster researcher and educator who will develop nursing science. We will apply them with the broad viewpoint and the foundation in nursing, in addition to ones' own speciality and deepened knowledge. We also will foster advanced and specialized personel and will contribute to every range of regional society and various nursing practice. At our program, the students can obtain abilities
To carry out the advanced clinical nursing practice with accuracy, precision and creativity
To analyze, decide, act and evaluate based on elevated ethic in the area of specialized nursing area
To collaborate with the other professionals and integrate and manage for the future prospect of nursing
To challenge the health promotion in Snow Coverage and Cold Districts.
Research fields/qualifications
Field
Area
Specialized department
Practical Nursing
Community Health Nursing
Public Health Nursing/
Home Healthcare Nursing*/Gerontological Nursing
Maternal & Child Health Nursing
Maternal Nursing/Child Health Nursing*
Adult Nursing
Acute Illness Nursing*/
Chronic Nursing/Oncology Nursing*
Psychiatric Mental Health Nursing
Psychiatric Mental Health Nursing*
Nursing Skills
Nursing Skills
Nursing Management
Nursing Education & Nursing Management
Nursing Education/Nursing Management
Specialized Departments with an asterisk (*) also have certified nurse specialist (CNS) courses. Students who have completed CNS courses are qualified to take the examination for certification of nurse specialists. Students who have completed the study of nursing management in the area of Nursing Education & Management are qualified to take the examination for certification of Certified Nurse Administrator. To be qualified to take these examinations, students are also required to have a public health nurse, midwife or registered nurse license and have completed a certain period of practical training.
Degree
Master of Nursing
Note: Students who obtain a Master of Nursing degree are expected to play active roles in the following positions:
-Advanced professionals
-Nursing managers
-Researchers/educators, etc.
Research support funds for graduate students
Research support funds for graduate students are provided to students in the Program. The funds may be used for participation in academic conferences, obtaining references and other expenses necessary in the process of preparing master's theses.
Outline of the Curriculum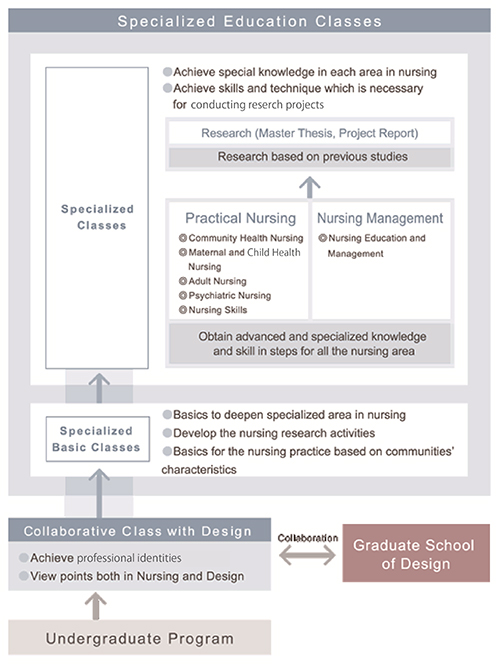 Syllabus
Faculties in Master Program