Doctoral Program
doctoral-program
Education
Aim of Education
In the Doctoral Program, students acquire not only advanced practical skills, but also the ability to explore ways to utilize the results of their research in nursing-related fields to solve health problems. The Program also fosters talents who undertake education and research aimed at organic coordination between undergraduate education and continued post-graduate education. Specifically, the following three abilities are fostered:
Ability to recognize social issues related to nursing accurately, conduct far-sighted technical development and system verification/creation and propose organizational measures.
Advanced clinical management and leadership ability based on a rich sense of humanity and broad perspective, as well as on a deep sense of ethics, expertise and skills.
Ability to conduct basic and applied nursing research independently and pursue nursing as a practical science from both advanced knowledge and clinical aspects
Degree
Doctor of nursing
* Those who have earned the doctor of nursing degree are expected to have the following occupations or positions:
Nursing executives or staff in charge of continued post-graduate education at medical institutions
Nursing consultants and other entrepreneurs
Managers of government agencies, nursing organizations and home care facilities
Researchers at nursing research institutes, etc.
Educators at universities and other higher-education institutions
Research fields
Field
Practical Nursing
Gerontological Nursing/Home Healthcare Nursing/
Maternal Nursing/Child Health Nursing/Acute Illness Nursing/Psychiatric Mental Health Nursing
Functional Nursing
Public Health Nursing/Nursing Education
Nursing Skills
Nursing Skills
Research support funds for graduate students
Research support funds for graduate students are provided to students in the Program. The funds may be used for participation in academic conferences, obtaining references and other expenses necessary in the doctoral thesis preparation process.
Outline of the Curriculum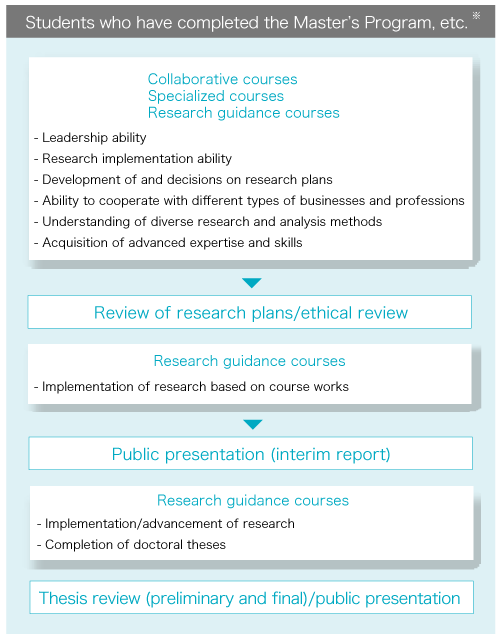 ※Requirements for applicants: those who have completed the Master's Program of the Graduate School of Sapporo City University, those who have completed the master's program of the graduate school of another university, and international students and working people who satisfy certain requirements.
Syllabus