Master's Program
masters-programs
Curriculum schedule
Education
Aim of Education
In the Graduate School of Design, we educate students and research on the various issues that are indwelling in the regional society. Through education and research, we aim to foster a professional who has advanced knowledge and is an expert in design. Our graduate students will be high-leveled specialists, researchers and educators who will contribute to the welfare of regional society by promoting industry, developing art and culture, restructuring and activating the community.
Our students will obtain abilities
To solve the complex and complicated issues and also solve the problems related in design
To show creativity which will bring out the new values through design
To manage and organize designing process from finding the problems, analyze the facts and produce the result
To investigate, analyze, make decisions, act, evaluate and propose on the issues, and problems from the design point of view.
Degree
Master of Design
Note: Students who acquire a Master of Design are expected to play active roles in the following fields:
-Architecture
-Manufacturing
-Advertisement/publication
-Tourism, information and other service industries, etc.
Research fields
The program has two fields-
"Spatial Design for Human Life" and "Communication Design for Human Life."
Qualifications, etc.
Students who have selected the Spatial Design Fields and acquired the designated number of credits are eligible to receive certification of having one-year work experience, which is a requirement for taking the examination for Class 1 architects.
Research support funds for graduate students
Research support funds for graduate students are provided to students in the Program. The funds may be used for participation in academic conferences, registration in open call exhibitions, obtaining references and other expenses necessary in the process of preparing master's theses.
Outline of the Curriculum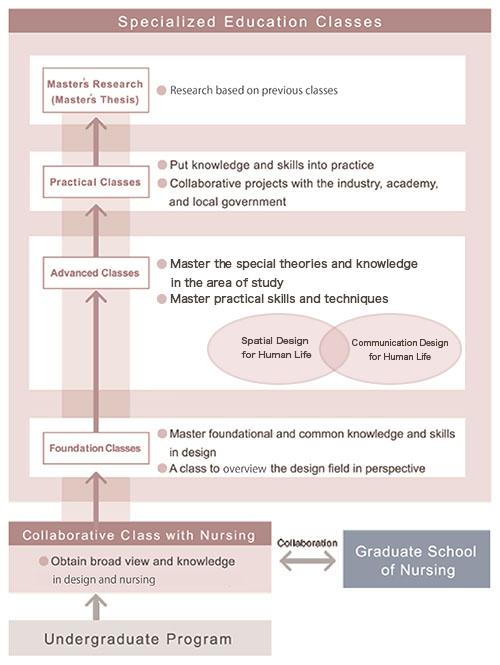 Syllabus
Faculties in Master Program